Christmas Family Worship Service
JOIN US FOR OUR CHRISTMAS FAMILY WORSHIP SERVICE!
Saturday, December 24th @ 4:00 PM in the PHUMC Gym!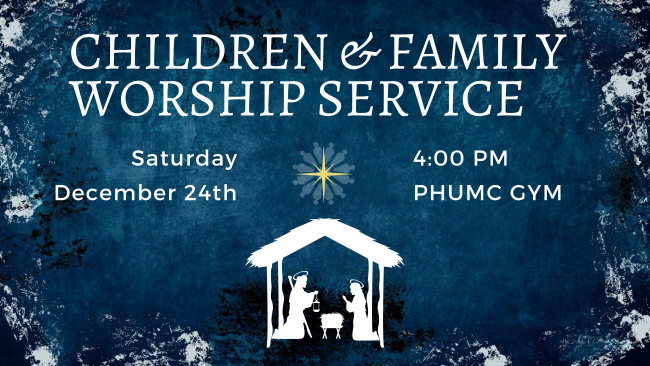 Join us in the gym for a short, immersive worship experience this Christmas Eve featuring live animals, a petting zoo, glow sticks, costumes, and more! This service is perfect for the entire family!
Petting Zoo opens at 3:15 and a live donkey will carry Mary and a live camel will walk with the wise people!
4823 Woodlawn Drive! You can find our Gym in this map here!
All preschoolers are invited to dress as animals and participate in the service from their chairs with their families! Arrive by 3:15PM for your child to get a costume.
K-5th graders are invited to be an angel or a shepherd in the play! Arrive by 3:15 for your child to get a costume. An optional rehearsal will take place on Sunday, December 19th during the Sunday School hour (10:10-10:50 AM).