SUNDAY MORNINGS
We offer fun and engaging age-appropriate experiences for children to learn what it means to be a follower of Jesus. We have added air-filtration systems to all our children's classrooms, helping to ensure a healthy environment.
Infant/Toddler and Preschool childcare is offered throughout the morning
Children's Sunday School is from 10:10-10:50am

Preschool classes meet on the bottom floor of the Norma Story Building.

Kindergarten through 4th grade will meet on the top floor of the Norma Story Building
We are offering new resources for children to use during worship designed to engage your child throughout the entire worship service. We hope you will download and print the attachment prior to watching worship with your children.
VOLUNTEERS NEEDED
There are multiple opportunities for you to help in Children's Ministries from Nursery Greeters to Children's Sunday School Leaders. Contact Pam Lentz or click the links below if you are interested in volunteering!
DATES TO KNOW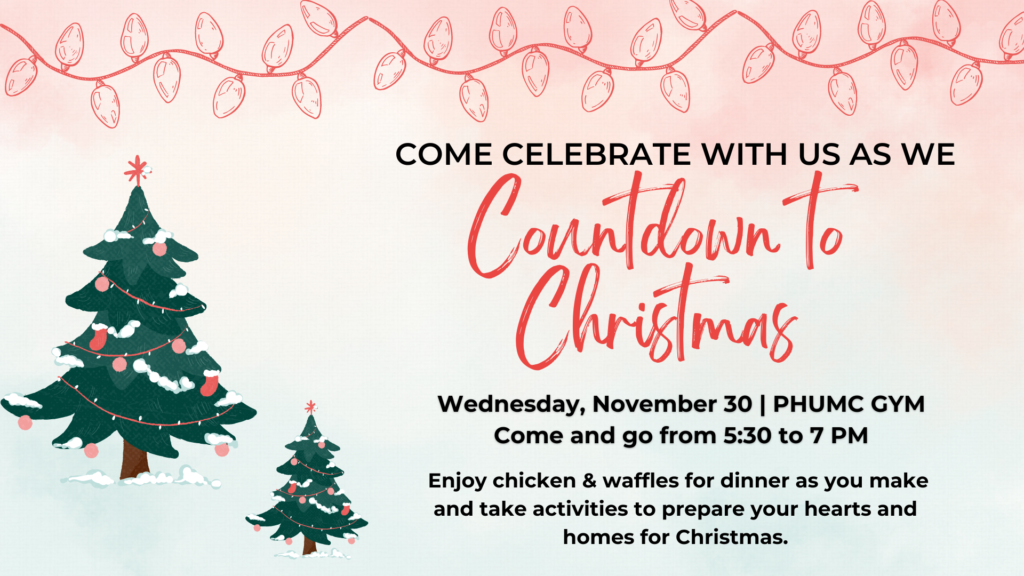 Countdown to Christmas: Family Advent Party
Wednesday, November 30th | 5:30-7:00 PM | PHUMC Gym
This come-and-go event will include chicken and waffles for dinner, and will feature interactive crafts and missions for the whole family to enjoy!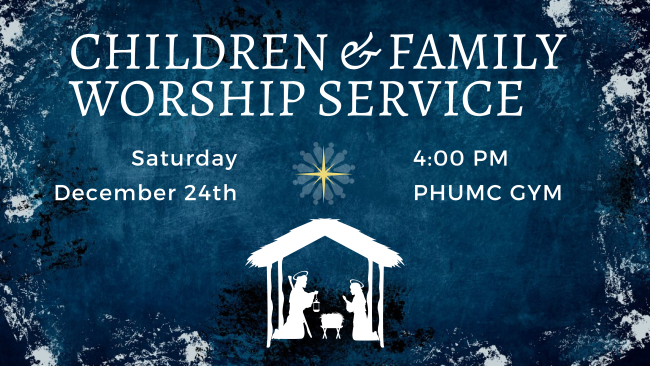 CHILDREN & FAMILY WORSHIP SERVICE
Saturday, December 24th | 4:00 PM | PHUMC Gym
Join us in the gym for a short, immersive worship experience this Christmas Eve featuring live animals, a petting zoo, glow sticks, costumes, and more! This service is perfect for the entire family!
Petting Zoo opens at 3:15 and a live donkey will carry Mary and a live camel will walk with the wise people!
All preschoolers are invited to dress as animals and participate in the service from their chairs with their families! Arrive by 3:15PM for your child to get a costume.
K-5th graders are invited to be an angel or a shepherd in the play! Arrive by 3:15 for your child to get a costume. An optional rehearsal will take place on Sunday, December 19th during the Sunday School hour (10:10-10:50 AM).
For more information on any aspect of our children's programs. you can contact Pam Lentz or Kristie Finney.