SUNDAY MORNINGS
We offer fun and engaging age-appropriate experiences for children to learn what it means to be a follower of Jesus. We have added air-filtration systems to all our children's classrooms, helping to ensure a healthy environment.
Infant/Toddler and Preschool childcare is offered throughout the morning
Children's Sunday School is from 10:10-10:50am

Preschool classes meet on the bottom floor of the Norma Story Building.

Kindergarten through 4th grade will meet on the top floor of the Norma Story Building
We are offering new resources for children to use during worship designed to engage your child throughout the entire worship service. We hope you will download and print the attachment prior to watching worship with your children.
VOLUNTEERS NEEDED
There are multiple opportunities for you to help in Children's Ministries from Nursery Greeters to Children's Sunday School Leaders. Contact Pam Lentz or click the links below if you are interested in volunteering!
DATES TO KNOW
AUGUST 21 – BACK TO SCHOOL BLESSING
SEPTEMBER 11 – SUNDAY SCHOOL OPEN HOUSE! FILL YOUR BUCKET
SEPTEMBER 18 – 3RD GRADE BIBLE SUNDAY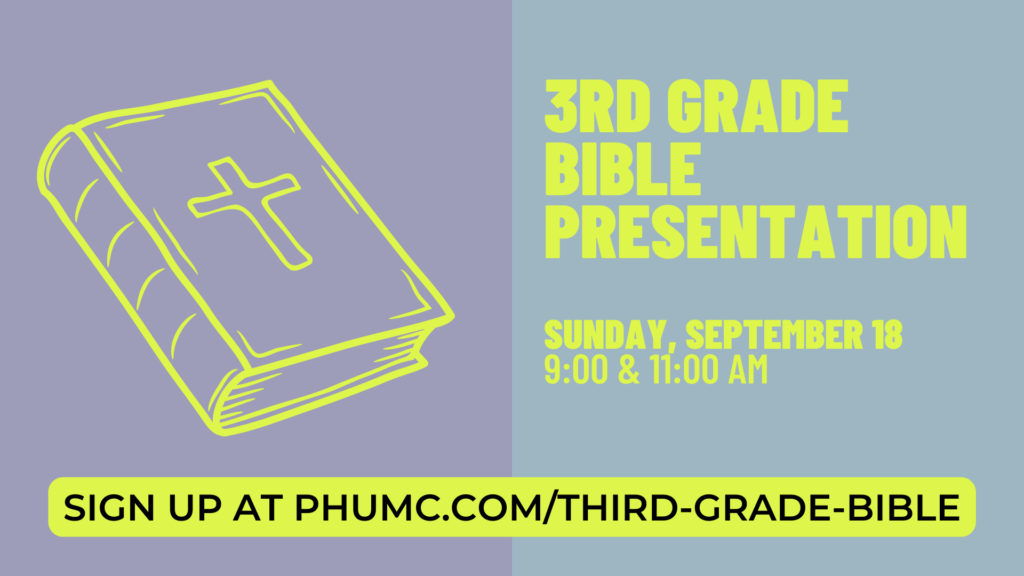 All 3rd graders are invited to receive a Bible on September 18 during any of our worship services. If you would like the named engraved on the Bible, sign up before September 5th. Your child's name will still be written in the Bible if you sign up after that date. Go to phumc.com/third-grade-bible to let us know your 3rd grader would like a Bible. We will follow up and send you details about the service.
3RD GRADE BIBLE BOOT CAMP
Stay tuned for updates on Bible Boot Camp! Coming Fall 2022!
For more information on any aspect of our children's programs. you can contact Pam Lentz or Kristie Finney.