Programming for children, youth, and adults of all ages can be seen below. Offerings include Bible studies, book discussions, classes, and more.
Registration for the meal IS NOT required! Youth and children 7th grade and under eat free, 8th grade and above pay $15 with a $40 max for family. We will be able to take card, check or cash. You can also pay for the whole semester, when you arrive the first week.
Registration for childcare is NOT required, but requested to allow us to best prepare staffing and space for your child. You can register for childcare here.
Programming and meals for the first semester run through November 15th.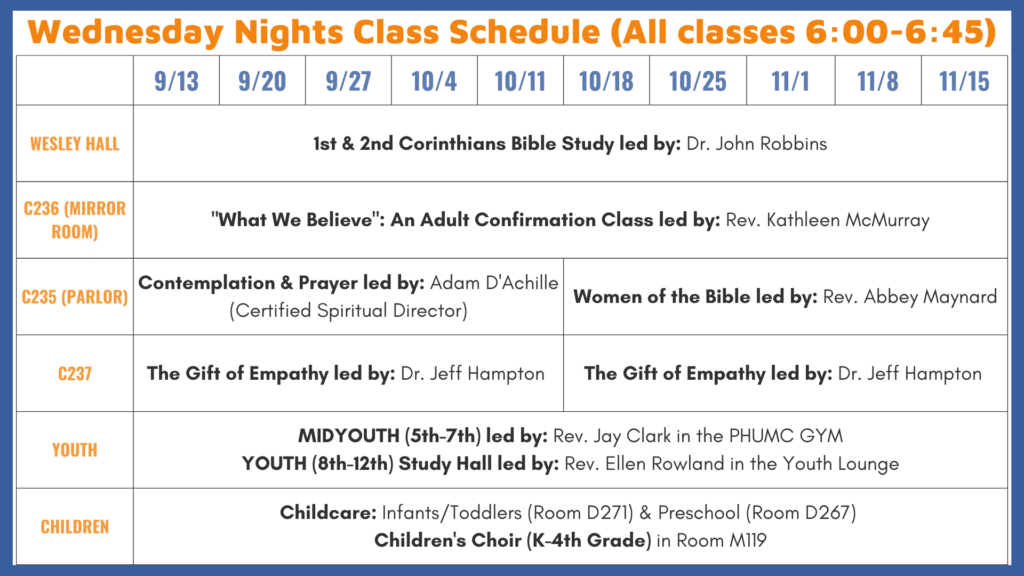 PASTOR-LED CLASSES/OPPORTUNITIES
10-WEEK LONG CLASSES
5-WEEK LONG CLASSES 1ST SESSION (SEPT. 13-OCT. 11)
5-WEEK LONG CLASSES 2ND SESSION (OCT. 18-NOV 15)
FOR YOUTH AND CHILDREN
CHILDREN'S CHOIR (K-4th Grade)
WHEN: Wednesdays from 6:00-6:45PM
WHERE: M119
WHO: Children (Kindergarten-4th Grade)
WHAT: This Fall we will officially have two Children Choirs: K-1st Grade & 2nd-4th Grade. We meet on Wednesdays, September 13-November 15 from 6:00pm – 6:45pm in room M119! We ask that you sign up your child for Children's Choir here.
Questions? Contact Dr. Frode Gundersen, fgundersen@phumc.com or Trenton Teegarden, tteegarden@phumc.com.
MUSIC