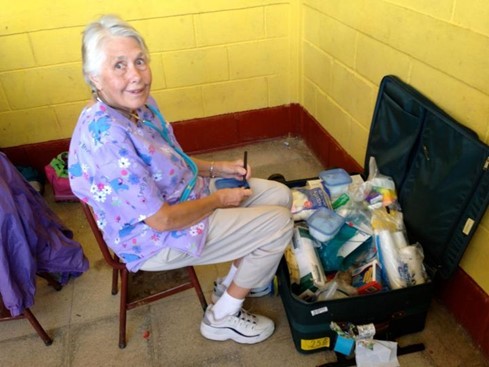 The following article was written by Project Salud y Paz, our partner in our Guatemalan Mission Trips, about the passing of our member, Gwen Efird.
Gwen's Legacy
On June 24th, 2022, the Salud y Paz community lost an amazing leader and friend, Gwen Efird. Gwen became the first team leader for the Pulaski Heights Methodist Church Medical Team from Little Rock, Arkansas, in 2002, after her first trip to Guatemala…..
On this trip to Guatemala, Gwen fell in love with the Guatemalan people and felt she wanted to do more to make an impact. Gwen's passion for the people of Guatemala only grew as she led medical teams every summer for 10 years through Salud y Paz.
Gwen's caring nature and bright smile made her a natural born leader, and she grew the PHUMC medical team into a medical, dental and surgical team. After 10 years of serving as team leader, the PHUMC medical team honored Gwen by creating the Gwen Efird Nursing Scholarship. This scholarship worked to fund mission weeks for nurses and nursing students with the PHUMC team.
The love shared by Gwen did not stop at being a fearless team leader. Whether it was the staff and patients of Salud y Paz or the team members of the PHUMC mission team, Gwen was a friend to all.
Gwen's passionate spirit and love of Quetzal birds will never be forgotten. We extend our condolences to Gwen's husband, Rev. Gene Efird and her entire family.
-Project Salud y Paz