PHUMC Updates on Coronavirus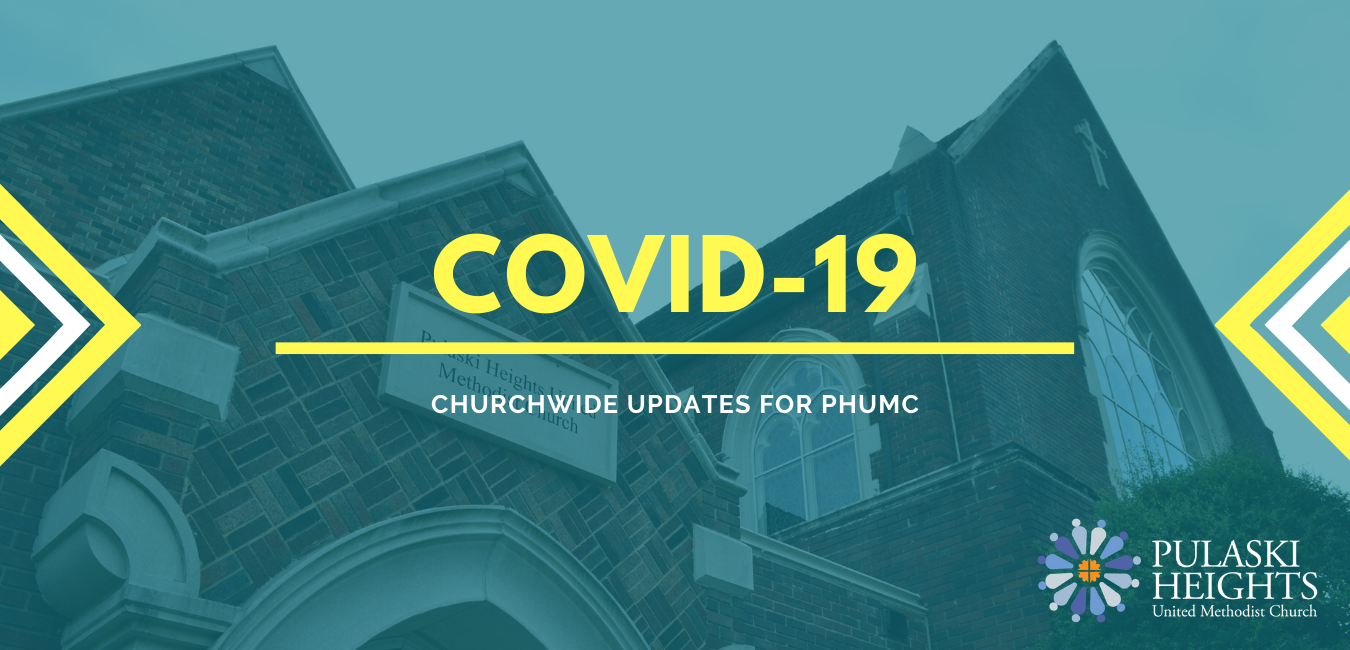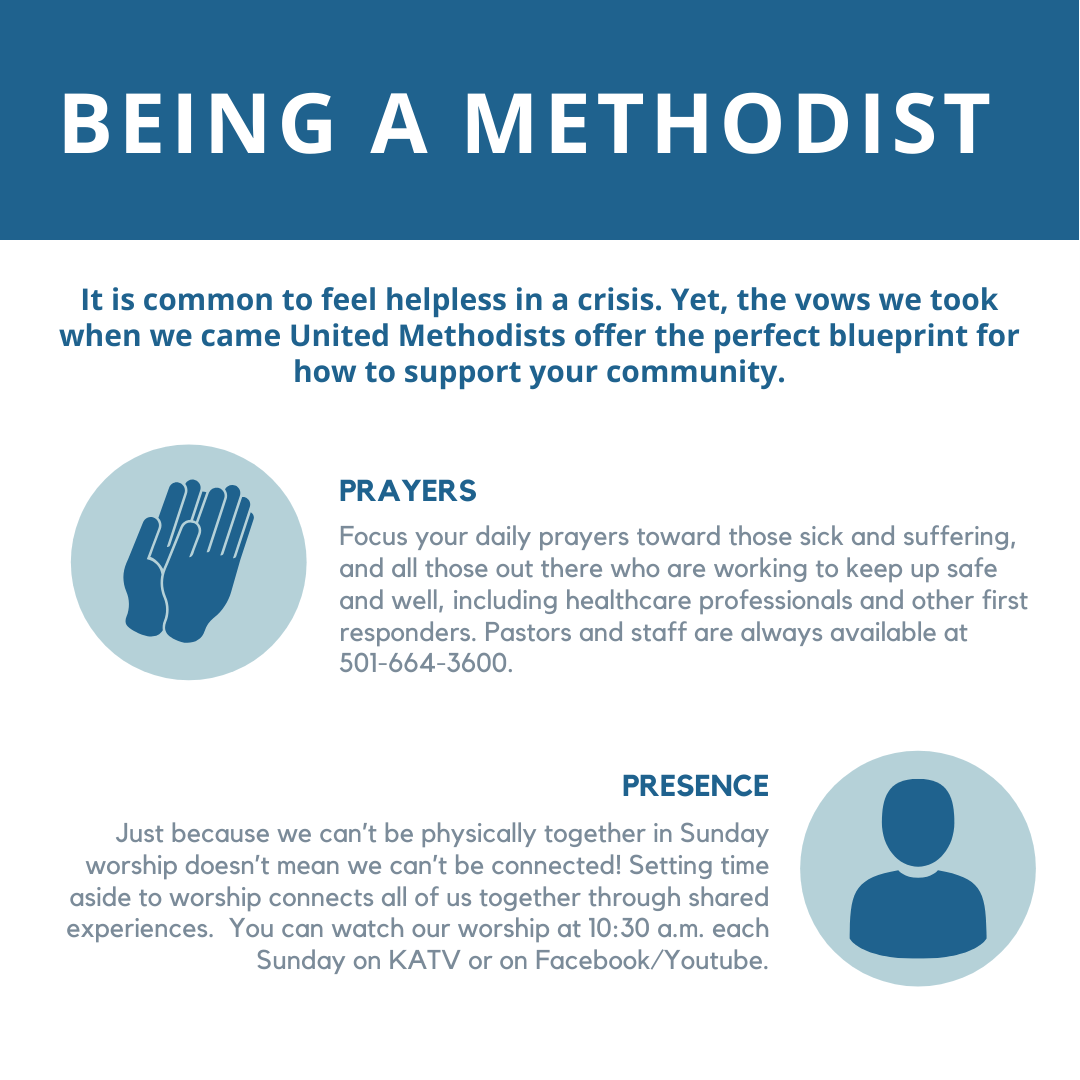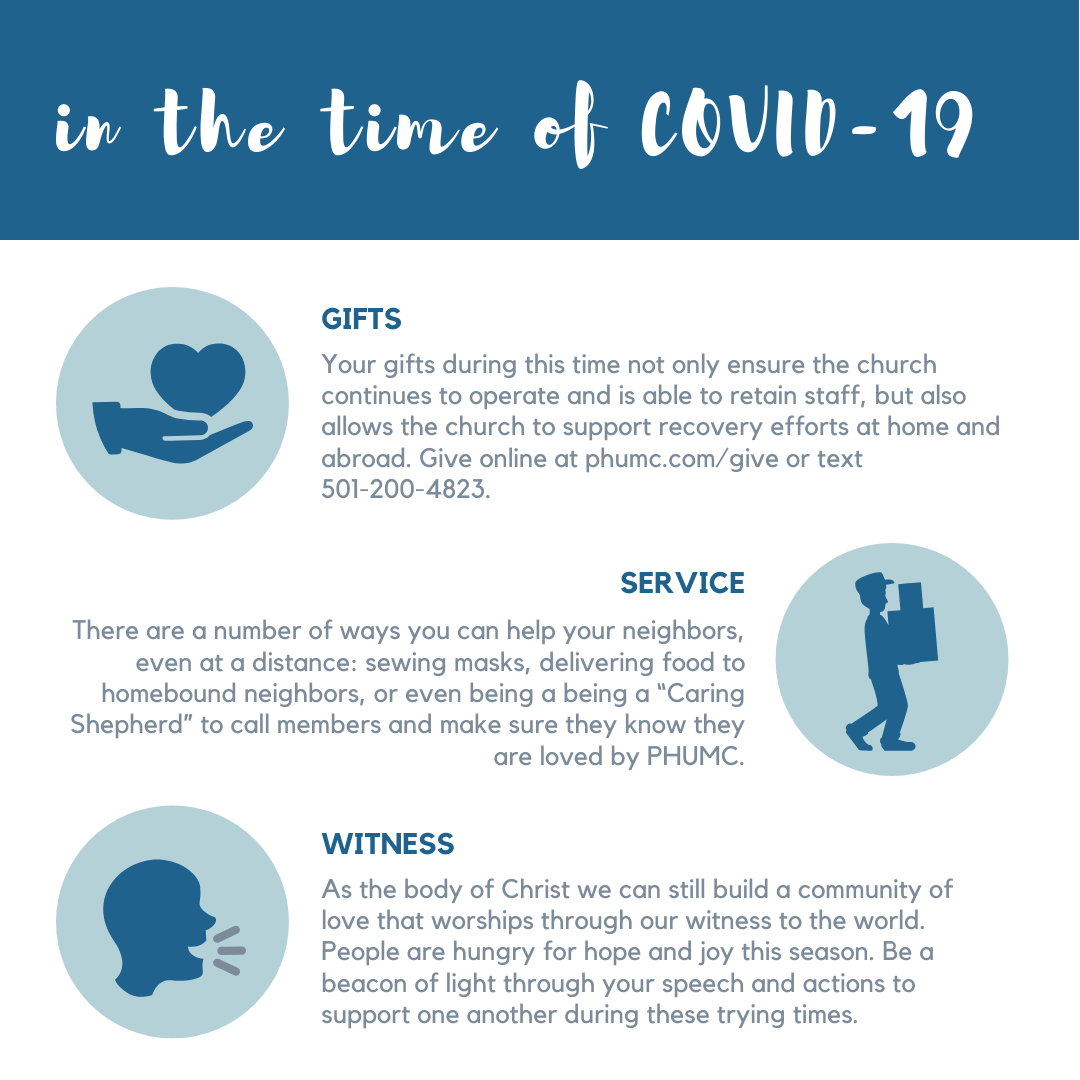 Pulaski Heights COVID-19 Latest Updates
April 30, 2020
Onsite worship at PHUMC and St. Luke suspended until further notice
PHUMC task force created to look at re-launching in-person worship services 
CLC remains closed through May; Several changes to summer camps
Worship will still broadcast at 10:30 a.m. on KATV 7 each Sunday and online on our Youtube page
We wanted to give you our latest update with COVID-19 as we enter May.
Right now our plan is to continue at-home worship services until further notice.  We will continue to meet digitally and worship together by our broadcast and online ministry. We have created a task force that will look at how we relaunch in-person gatherings. Furthermore,  Bishop Gary Mueller is working with the Governor's Economic Recovery Task Force and the conference has also assembled an ARUMC group that will be composed of laity and clergy who represent a variety of ministries and vocations, including healthcare and legal entities.
Our Children Learning Centers on both campuses remain closed through May.
Other changes and closures include:
Vacation Bible School will not be held onsite and will change to virtual experience (click here to register)
Adventure in the Arts Summer Camps cancelled
Ozark Mission Project Mission Summer Camps cancelled; virtual camps available (register here)
Camp Tanako cancelled
Camp Kanakuk Camp Out at PHUMC cancelled
____________________________________________________________________________________________________________________________
March 24, 2020
Onsite worship at PHUMC and St. Luke suspended through April
Holy Week Services will still be broadcasted; Community Easter Sunrise Service Cancelled
No outside group meetings and events through April; Staff still available during normal business hours by email
Worship will still broadcast at 10:30 a.m. on KATV 7 each Sunday and online on our Youtube page
As Cindy Burns said Sunday….know that your are loved!
Due to the continuing restrictions related to public gatherings issued by federal, state and local officials and the Centers for Disease Control and Prevention (CDC), all events, group meetings, and on-site worship services are cancelled for April.
Sadly, this includes on-site worship for the following:
Palm Sunday
Maundy Thursday
Good Friday
Community Easter Sunrise Service
PHUMC Easter Sunday
The church and worship will still continue! Preparations are already under way to deliver Holy Week services via our broadcast ministry on KATV at 10:30 a.m. each Sunday. Our Palm Sunday service on April 5th will combine Maundy Thursday and Good Friday all in one!.
We appreciate all of you that tuned in to watch our worship from home this past weekend. It was very comforting to hear all of the great words of encouragement from our members. This ministry has become so vital for our congregation to stay engaged as we prepare in sure and certain hope of the coming Resurrection.
Sunday sermons are also available each week on Facebook, Youtube and PHUMC.com.
Staff continues to work remotely and can still be reached during normal business hours Monday-Friday. Our phone service is available 24/7 to help all members of our congregation during these trying times. Simply call 501-664-3600. Several church groups have already organized virtual meetings and bible studies.  If you are needing assistance on how to set up a meeting, visit our resource page at www.phumc.com/athome.
Other major programs and events that are cancelled or postponed during this time:
Adventure in the Arts
Pulaski Heights Children's Learning Center (thru April 17 for now)
St. Luke Campus Children's Learning Center (thru April 17 for now)
Easter Egg Hunt at Allsopp Park on April 11
April Primetimers Luncheon
As we have preached all along during this crisis, one of the greatest ways we can share compassion with our world right now is to join the collaborative effort to prevent the spread of the coronavirus (COVID-19).
Pray for those impacted in our community, nation and around the globe and let's continue to share the gospel beyond the walls of our church!
____________________________________________________________________________________________________________________________
March 14, 2020
Onsite worship at PHUMC and St. Luke suspended through March 29
No outside group meetings and events through March 29
Worship will still broadcast at 10:30 a.m. on KATV 7 each Sunday and online on our Youtube page
MESSAGE FROM SENIOR PASTOR BRITT SKARDA
"But God has not given us a spirit of fear, but of power and of love and of a sound mind." 
The coronavirus pandemic has stirred up anxiety and fear in our community, our nation and the world, and for good reason.  We must take this global health challenge seriously and respond to it appropriately.  While faith calls us to believe in a positive outcome to the COVID-19 outbreak, we must also employ best practices in order to stem the tide of this threat.
By nature, the church is a highly tactile community.  As God took on human form in Jesus Christ, so our community thrives on being physically present.  When we come together for worship we sit shoulder to shoulder, we shake hands and embrace one another and we give and receive the elements of Holy Communion through human hands.  While the consistent message we hear in the Bible is that we must trust God and not fear, God also calls us to be wise as serpents and gentle as doves (Matt. 10:16).          
As your senior pastor, I advise you to be both wise and gentle in the days ahead.  Use precautions suggested by The Center for Disease Control and Prevention.  Take care of yourself while also reaching out by phone or other means to friends and neighbors, especially those who may be most vulnerable to COVID-19.  As the body of Christ at Pulaski Heights United Methodist Church we can build a community of love that worships through our witness to the world. 
Because this virus can be easily transmitted through large concentrated gatherings, we have suspended onsite worship services through March 29 at our Woodlawn campus and St. Luke campus.  However, we will continue to worship together via our Sunday worship broadcast at 10:30 am on KATV channel 7, as well as through our online channels such as Youtube and Facebook.  I encourage those on social media to follow our channels as we continue to look into new ways of worship and fellowship at PHUMC.  
While the church facilities will be closed through March 29, please know that your staff will continue to work and pray diligently on your behalf, both onsite and by distance.  Let me stress that during this period, the financial needs of the church will continue if not increase.  I encourage you, in the spirit of Jesus, to be generous with your resources, perhaps giving sacrificially to assure that our witness to the world continues without interruption. You can give online here. My prayers are with you as we continue this journey together. 
"May the God of endurance and encouragement grant you to live in such harmony with one another, in accord with Christ Jesus, that together you may with one voice glorify the God and Father of our Lord Jesus Christ. Amen." (Rom. 15: 5,6)
____________________________________________________________________________________________________________________________
March 12, 2020
The decision has been made to close Pulaski Heights United Methodist until Monday, March 16th.
The Woodlawn campus and St. Luke campus will be closed. Office hours, all events, group meetings, and Raney Lecture worship services are cancelled during this time.
Furthermore, due to the announcement today from Governor Asa Hutchinson in closing all schools in Pulaski County until March 30th, the following programs will also be closed until after spring break:
Adventure in the Arts
Pulaski Heights Children's Learning Center
St. Luke Campus Children's Learning Center
Parents involved will be receiving further communication from these programs.
____________________________________________________________________________________________________________________________
Below is a list of events after March 16th that are now postponed or cancelled.
Future Meetings/Groups/Events Cancelled or Postponed
You Go, Girl Luncheon (Scheduled for April 2. Postponed to a later date)
Cathie Matthews Memorial Service (Postponed to a later date)
Hillcrest Lenten Series (Cancelled)
Parents Night Out (March 27th)
March Finance Committee Meeting (tentatively rescheduled to March 30 at 5:00 p.m.)
Helping Hands (Until March 31)
Lunch Bunch – March 25
Primetimers and Friends Monthly Luncheon (March 26)
Primetimers ON THE GO – March 27
All PHUMC Caring Ministries Volunteer Visits
phYouth
Sunday night phyouth (through March 30)
Youth basketball
Faulkner Bible Study
Wednesday Night midyouth (until after March 30)
If you are in charge of a ministry or group and need to cancel/postpone, please contact Stacey Hightower at shightower@phumc.com .
It goes without saying we will provide important updates as we get them. Our pastors will still remain on call and you can contact the church office at anytime at 501-664-3600
________________________________________________________________________________
This Sunday
You can still watch our worship service on TV at 10:30 am Sunday on KATV Channel 7.
Rev. Britt Skarda has selected a past sermon that we hope will have a special meaning for you.
Please join with us in praying for our state, our nation & the world in this challenging time. Thank you and God bless!